SQS | SMART QUENCHING SOLUTIONS
Wozu eine Quench?
After heating for quenching and tempering, targeted cooling of the component is essential. In previous plants, the process was realized by immersing the component in oil. However, this leads to severe air pollution and oil residues inside the component. In order to meet both environmental aspects and quality requirements, ThermProTEC has developed a polymer-based spray sequence system. This ensures targeted, homogeneous and precise cooling of the component. The distortion of the component can be adjusted by adjusting the water quantity and position. Spraying also prevents the polymer liquid from penetrating into the interior of the stabilizer. The polymer liquid evaporates residue-free from the surface. A downstream cleaning process is therefore no longer necessary.
Equipment & Execution
The quenching system consists of the actual quenching unit with two chambers, the polymer tank with integrated cooling and the equalizing tank with automatic polymer dosing and level control. A cyclone system filters the scale from the polymer solution. The 2-axle portal system is used for handling the stabilizers by the quenching unit and for loading the tempering furnace.
Process
The stabilizer is placed in a loading station by a handling robot. There the temperature at critical points is checked with one to two pyrometers and the minimum temperature is queried. From there, the stabilizers are deposited alternately in chamber one and two, where the actual quenching process takes place. The stabilizers are then conveyed to the tempering furnace or to a reject position. Each of the two chambers consists of two chamber showers. These are supplied by a frequency-controlled pump system. In order to achieve an optimum showering result, the nozzle geometry must be adapted to the stabilizer contour. This is achieved by means of a shower change plate. The showers can be easily changed using a pneumatic sealing system. Corresponding accessories for storing the shower trays are also available from us. All process-relevant data such as polymer concentration, quenching agent temperature, shower volume and component temperature are recorded and stored in the database.
Range of services
The quench system consists of a complete unit with all the components required for operation. Alternatively, the loading portal can be replaced by a robot. As a further option, the chambers can be flooded and operated in combination with the showers. In various cases, this leads to a reduction in the geometric distortion of the component.
You are interested, have questions or suggestions?
Our team is at your disposal. We look forward to your message!
+49 (781) 990 719 20
Carl-Zeiss-Strasse 18 | 77656 Offenburg | DE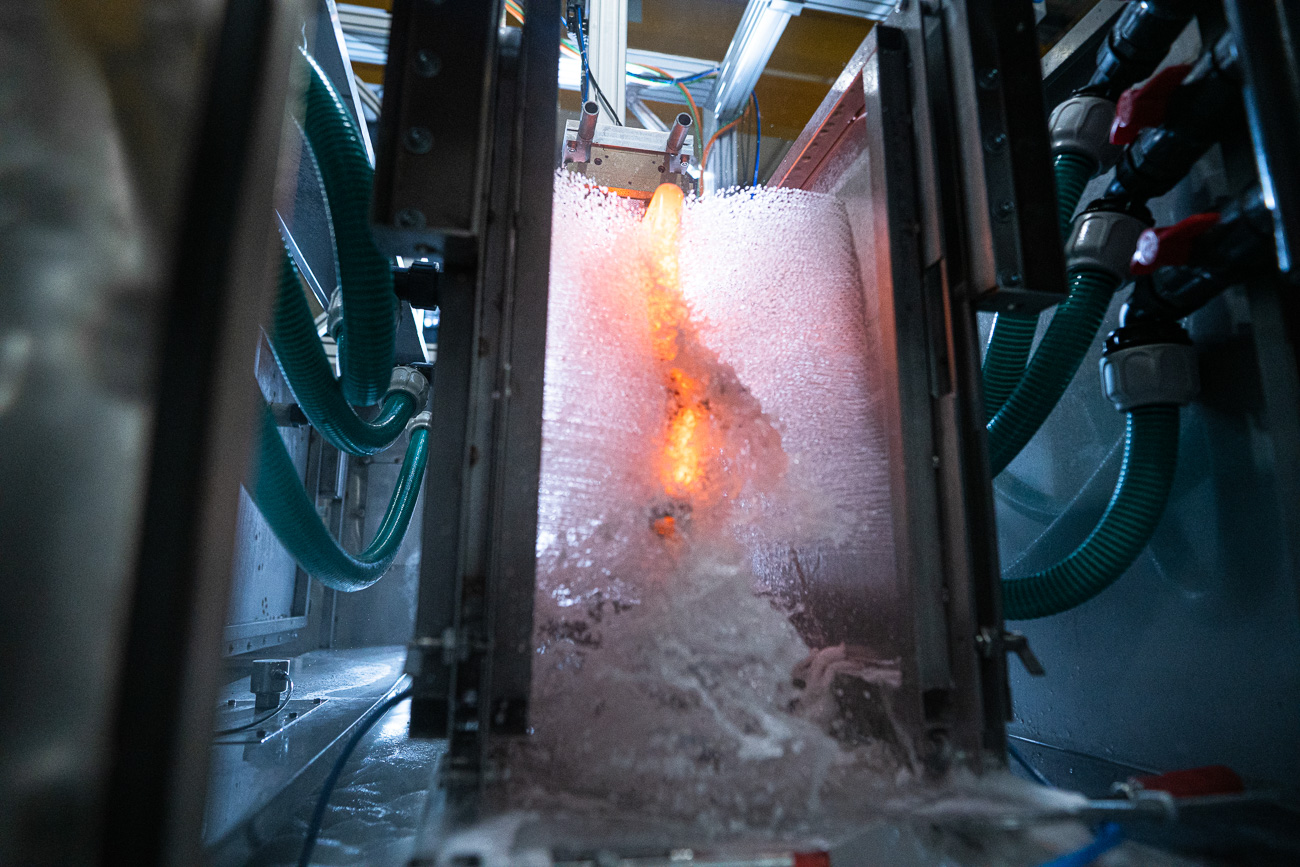 From process development to turnkey production facilities. We develop innovative solutions in the field of thermal process technology.
From the automotive industry to mining, you are in good hands with us
.
+49 (781) 990 719 20
Carl-Zeiss-Strasse 18 | 77656 Offenburg | DE