STU | SMART TEMPERING UNIT
Why this system concept for tempering?
Tempering usually includes the tempering process with which the surface hardness of the components is adjusted. The tempering process depends on a homogeneous temperature distribution. Furthermore, the reaction time is decisive for the tempering process. In order to achieve the corresponding homogeneity, we at ThermProTEC use all our heating technologies, depending on the application.
System design
Our SMART TEMPERING UNIT, or STU for short, usually consists of a transport system that is adapted to the component, one or more heating systems and the corresponding measurement technology for quality assurance. The most common application is the heating of hardened components from the automotive industry. Here, circulating air technology is used as the heating technology, whereby the heating itself is either electrically or gas-heated. Intelligent air ducting systems ensure optimum distribution and inflow of the components. In order to minimize the furnace length, so-called boosters are used, which ensure an accelerated achievement of the tempering temperature. In extreme applications we use our NIR technology. This high-energy short-wave radiation enables particularly high heating rates. The radiation is generated by halogen-based radiation sources whose energy is directed via special reflectors. Energy densities of up to 1 MW/qm are achieved, whereby the short reaction times enable the control of particularly precise temperature profiles. This technology is not only used for tempering. It can be of particular advantage when drying coatings (IDT | INSTAND DRYING TECHNOLOGIES), where only the coating layer and not the substrate is heated, as well as when heating plastics, which are currently heated throughout the entire volume, particularly quickly. This advantage is particularly evident in plastic forming technology, e.g. for PET bottles (HFS | HOT FORMING SYSTEMS). The transport system itself is based on a chain conveyor, possibly combined with a transport grid for the optimal and positional transport of the components. As an option, the component is cooled at the end of the furnace and, in the case of direct further processing with a robot, precisely positioned.
The starting process is a function of temperature and time. In special applications it is therefore possible for us to drastically shorten the starting process by means of very precise temperature effects. For this purpose, tempering systems on a pure NIR basis are used, whereby the temperature transmission must be extremely precise. However, this effort is then rewarded by a factor of 10 shorter starting time and significantly smaller starting dimensions.
You are interested, have questions or suggestions?
Our team is at your disposal. We look forward to your message!
Zunftstr. 20 | 77694 Kehl-Marlen | DE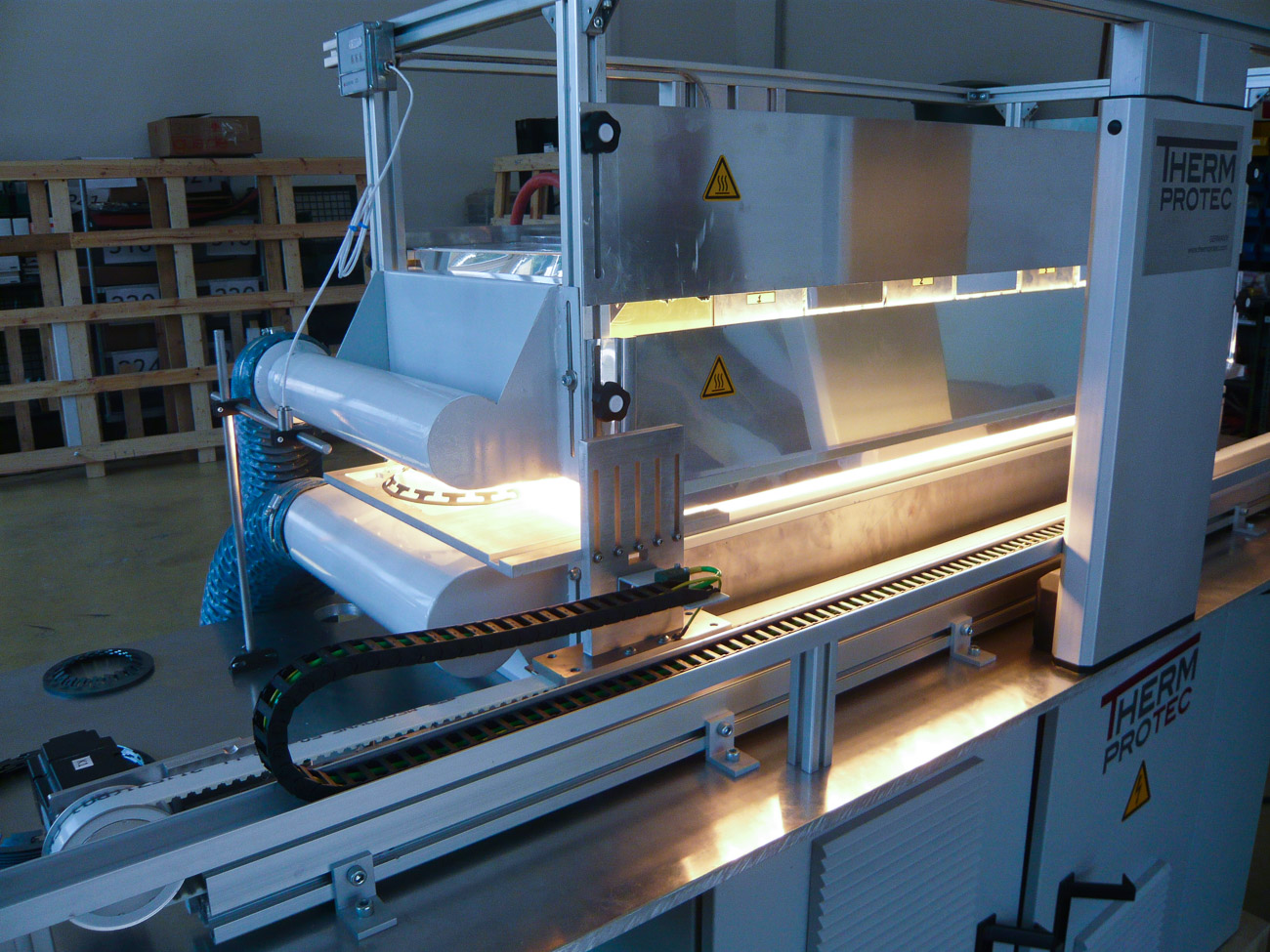 From process development to turnkey production facilities. We develop innovative solutions in the field of thermal process technology.
From the automotive industry to mining, you are in good hands with us
.
Zunftstr. 20 | 77694 Kehl-Marlen | DE