SFL-P | SMART FORGING LINE PARTS
Why heat?
The forming of metallic components very often takes place at elevated temperatures. The selected temperature influences the properties of the formed components. Typical areas for hot forming are forging at > 1150°C, hot forming at approx. 1000°C and semi-hot forming at approx. 800°C, whereby the improved flow properties of the materials play a role. In order to meet all requirements, we offer systems that realize the partial heating of metallic components on the basis of inductive heating.
System description
A special plant design is used to heat shafts, which are then semi-warm formed in a press (production of steering racks). The components first pass through a cleaning station and are then precisely aligned in a lifting beam system.
Heating technology
The actual heating process uses oscillating coils, which scan the component surface several times and ensure temperature-controlled, particularly uniform heating of the component. This is particularly advantageous as the end areas are heated evenly. On the other hand, a particularly strong temperature gradient is achieved in the transition area and, in principle, the heating of different component diameters or wall thicknesses can also be achieved. One of our standard systems uses an induction system with six individually controllable oscillating circuits, each with 50kW at 10kHz. Cycle times of 8 s are achieved with this system.
Special features of the version
The transfer to the heating station takes place with a servo-controlled 2-axis portal. The components are held in position in the cold area by pneumatic grippers and then conveyed to the press station by a robot. A local suction system, similar to a trough suction system, minimizes the formation of smoke when heating the still slightly oily components.
You are interested, have questions or suggestions?
Our team is at your disposal. We look forward to your message!
+49 (781) 990 719 20
Carl-Zeiss-Strasse 18 | 77656 Offenburg | DE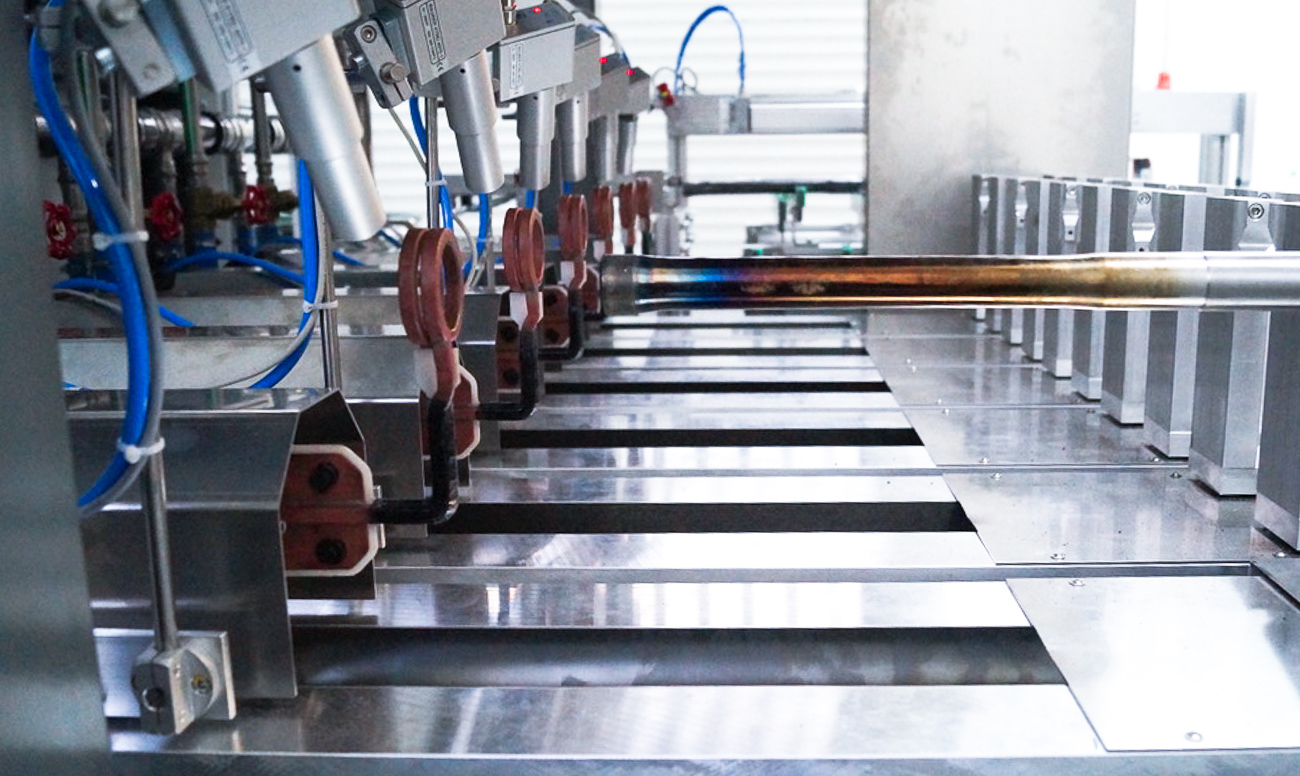 From process development to turnkey production facilities. We develop innovative solutions in the field of thermal process technology.
From the automotive industry to mining, you are in good hands with us
.
+49 (781) 990 719 20
Carl-Zeiss-Strasse 18 | 77656 Offenburg | DE